Latest Updates
Save The Date: Ontario's iGaming Market Turns 1!
On April 4, 2023, the Canadian Gaming Association (CGA) will be hosting a one-day program in Toronto to examine Ontario's iGaming market on its first anniversary. Save the date (April 4, 2023) in your calendars, and stay tuned for more details.
CGA @ ICE 2023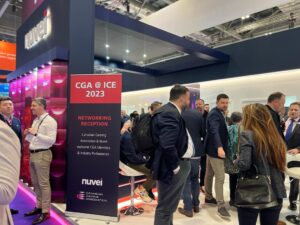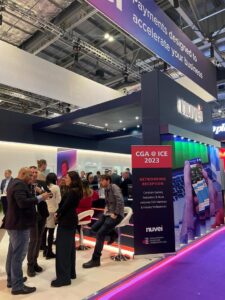 Canada was a hot topic at ICE London last week with varying sessions focused on the success of iGaming in Ontario. The ICE VOX program included a couple Canada-focused sessions.
The Canada Roundtable, hosted by Paul Burns, President of CGA, CGA Member Peter Czegledy, Chair of Gaming Group & Co-Chair of Sports, Media & Entertainment Group, Aird & Berlis LLP, as well as Martha Otton, Executive Director, iGaming Ontario and Sophia Arvanitis, Agent-General, Ontario Ministry of Economic Development, was an engaging 90 minute session.
CGA was also well-represented at the Unlocking Canada session, with the participation of CGA Members Peter Czegledy, Aird & Berlis LLP, Bruce Caughill, Managing Director (Canada), Rush Street Interactive, and Warren Tristram, Head of Gaming, Lottery and eSports, Nuvei. The CGA also wants to thank Nuvei for hosting CGA members and guests for a reception in the Nuvei stand on the exhibition floor at Excel. The end of day reception on Wednesday saw close to 100 guests gather for a networking reception at Nuvei stand.
Register Now for the Canadian Gaming Summit
The Canadian Gaming Summit (CGS) returns from June 13-15 in Toronto, and registration is now open! If you're a CGA Member, check your inboxes for a special member-only code, reflecting a 40% discount. Secure your spot among the brightest minds in Canadian Gaming and Betting and purchase your pass today! Learn more.